ROBINIA
Robinia pseudoacaia Frisia    Zone 4
Black Locust. Broad upright tree. Horizontal branching with lemon-yellow compound leaves. Clusters of fragrant flowers hang from the branches in early Summer. Grows to 6m high and 3.5m wide in 10 years.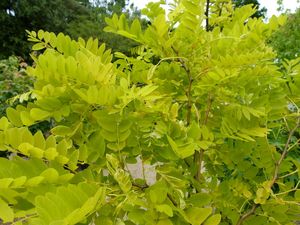 Robinia pseudoacaia 'Frisia'
Robinia pseudoacaia Twisty Baby    Zone 5
Black Locust. Upright, irregular spreading tree.  Branches are very contorted have blue-green foliage and can be artistically pruned into magnificent sculptures. Grows to 3 m, but size depends on culture.